The perfect product page for building materials catalogs and sites
As is to be expected, there is no single recipe for filling in a building materials product page. The number and type of fields will depend on each sector and building materials product category: it is obvious that a faucet will not have the same technical data as floor tiles.
Likewise, a technical datasheet prepared by a manufacturer for its distributors and retailers is not the same as a product page for an online shop or catalog aimed at the end user — whether they be a professional or a consumer.
Product pages for a building materials site will always be more concise than a full technical specs sheet. But, to be able to get that sales page to a good level and attractive from a marketing standpoint, the first thing you need to do is have all your building materials product information well organized and easily accessible for marketplaces and platforms like Google Manufacturer. From there, retailers can gain access to quality information approved and monitored by manufacturers, and the end consumer will always be receiving the most correct information possible.
PIM systems, especially those which are cloud based, are acquiring great strength in the market because of the ability they have to organize all the complex data contained in broad catalogs with a lot of fields, as is the case of the building materials sector. As platforms for collaborative work and connecting data to any digital channel or marking it for printing, the technological value of PIM systems has grown in 2020 and they will be a true ally to once again boost the sector in 2021.
So then, now that we've seen how important it is to have a building materials product page that is well designed and complete, what cannot be missing on one?
Use and function descriptions
building materials materials and products have to tackle very specific tasks. Normally their public is comprised of different types of professionals who compare the options that best adapt to different scenarios.
Therefore, building materials product pages must explain very well, right from the get-go, the function of the product and its domestic or professional use. Nevertheless, many manufacturers and retailers tend to do this in a boring way.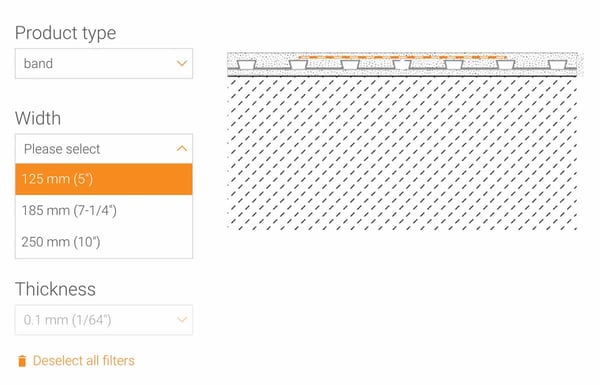 Even if your clientele is professional, product pages must be attractive and answer all possible questions in a clear, simple way — not just be a place to put a list of non-personal technical data.
Therefore, it is increasingly more important to use practices that are already commonplace in other sectors and design product pages that add value for the buyer and include all types of resources to help make the product convincing in terms of its quality: images, videos, complete range of prices, complementary products and/or products that are needed for installation or use, as well as the most important technical data for the product category.
→ Your pocket guide: The resources that cannot be missing on any product page
Technical specifications
In this section, it is important to select the specifications that are the most useful for the product type and target customer. Another key detail is to adapt the format of the technical data to the country where the product is being sold. For example, the type of punctuation marks used for decimals can vary from one region to another, as well as common units of measure for temperatures, weights, dimensions, volume, etc.
Useful types of technical data for a building materials product page
Material.
Chemical composition.
Dimensions.
Weight.
Color references.
Recommended infrastructure.
Durability.
Resistance and permeability.
Protection.
Physical, chemical, and mechanical properties.
Compatibility with other materials.
Use and exposure conditions (interior, exterior, tolerance to humidity, etc.).
Compliance with legal and industrial requirements.
Official certificates.
Possible effects or emissions.
Usage applications.
Results in usage tests.
Measurements for use, mixture, or application.
Number of units included.
Type of packaging.
Shelf life of the product packaged and open.
Recommended storage procedure.
Warning about use, installation, and degradation.
Results from quality controls.
Images
The visual aspect has traditionally been widely forgotten in building materials material catalogs. Photos are typically scarce and small, supporting the theory trend of sector only caring about technical data.
Nevertheless, many manufacturers are starting to take interest in a more visual, sensory, and immersive experience that favors the brand and the digital shopping experience, which will be more and more common in shops and meetings with providers.
Virtual and augmented reality experiences are quite useful for building materials products, as they allow different types of floors, tiles, walls, windows, doors, and any other type of building materials to be planned in 3D and in real time. This is possible without having to imagine what things will be like or move around to see models in warehouses or at building materials sites.
In addition, building materials product catalogs and websites with good visual images transmit a sense of greater luxury, quality, and trust.
→ Here's how it works: Augmented reality for ecommerce products
Product filtering
This aspect depends on the navigation scheme applied to a website or online shop, but it also is influenced by the organization of product data.
Faced with very large catalogs and a lot of variants, which is typically quite common in the building materials sector, consumers need advanced filtering systems that allow them to easily find what they are looking for and compare options with the right parameters. Faceted navigation helps digital users a lot, and to apply this successfully, product data has to be well organized, homogeneous, and under control (a task that can be automated with the PIM technology we mentioned before).
In the end, the aim is to help the buyer in his/her quest, take him/her to the perfect product, and have that product be complete and attractive to him/her.
→ What wins over a buyer? Here's how online decision making works
Extra content: educate the buyer
Even the most professional client needs help when selecting building materials products. That's why the brands that are standing out in the building materials sector are not the ones that only offer endless tables with super-precise technical data; instead, it's the ones who give extra support that are triumphing.
This extra support can come in the form of videos explaining or demonstrating something, tutorials on installation or comparing different product options, design tips, etc. The options are numerous, depending on if the end customer is an architect, technician, interior designer, or a DIY handyman.
In any case, providing enriched content helps to generate trust in the brand, it attracts shoppers who want to avoid contact and questions with sales agents, and it generates attraction because the products can be seen in action and their features and advantages can be fully understood.

This strategy can also be applied through social networks where the most modern building materials material brands share contents of interest for their buyers in general rather than only showing their own products.
And, lastly, reviews will always be a valuable complement to provide products with social approval. Adding them to product pages and highlighting them in sales materials and on social networks is a great way to make your products stand out and convince buyers to come to your site for the first time.
→ More is better: How Ikea doubled its sales with enriched content
Pillars for the online positioning of building materials products
Why don't product pages with a conventional design and many pieces of technical data stand out on the new, growing digital scene?
Quality product content is the first step. The next step is for potential consumers (and first, Google) to find you.
Many manufacturers and retailers used to share product data on websites through images. This doesn't help positioning, as search engines cannot read the texts and identify keywords to associate them with your products and brand.
It is useful to give the users the chance to download PDFs with tables, extensive manuals, etc.; however, it is important to include product data as text on the pages themselves. To avoid duplicate data from replicating many URLs with similar content, we recommend you take a look at this post.
→ Free guide to get started on Google Manufacturer and stand out in online searches
The online catalog, virtual shop, and/or website of a building materials product manufacturer or retailer has to include the full experience for the shopper. The quality of the information is the basis for a marketing effort that can drive up conversions and sales through a product journey that is in tune with modern ecommerce.
Product experience
The catalog must be easy to navigate, check, and understand. Each product page must include the most useful data so as to answer the basic questions that the target customer could have and help him/her to make a decision more quickly.
Optimization
Webpages and apps must be prepared to load content quickly and support a good volume of traffic. In addition, this optimization contributes to improving online positioning and attracting more visitors due to the SEO work involved and the better techniques which speed up the website and make it more valuable in the eyes of google.
Trust
This is what loyal customers and newcomers must feel at all times. Reliable product data and an attractive design help the user to feel more comfortable navigating a catalog or website. This just goes to show that you're not just adding technical data but instead you're adding value, care, and quality.
Engagement
What would you like visitors to your virtual catalog to do? Just like in yesteryear when professionals kept their heavy annual product books for months as the bible of product query, in the digital era you also want buyers to continue turning to you and interacting with your brand. Showing that you listen to your target audience and promoting innovation and communication will improve any brand's exposure.
Retention
building materials material customers may have a very long lifecycle. If, thanks to everything we talked about above, you are able to prove to your customers that your brand is the best option, the next natural step is to maintain that trust with strategies that keep their interest over time.
Conclusion
Creating product pages for building materials materials can be a very daunting task which requires editing, organizing, and putting together a lot of different complex technical specifications for hundreds or thousands of products.
PIM solutions allow the process to be automated so that the digital experience of building materials manufacturers and retailers can stand out much more, and so that your teams can dedicate their time and resources to improving the online product experience, creating complementary content that is useful for the customer, and generating attractive strategies for products that are traditionally presented in a technical, unattractive way.
Try the Sales Layer PIM solution here and find out how easy it is to control all your technical data and connect it to distributors, retailers, and platforms that will improve your brand exposure.